For car enthusiasts, Denmark may not be the most welcoming place. As you drive away from Billund Airport towards Vejle, the landscape is filled with vibrant yellow rapeseed fields and traditional red farm buildings. The roads are impeccably smooth and straight, but the speed limits are strictly enforced. Exceeding the limits can result in severe consequences, including the confiscation and auctioning of your car, even if you've already paid exorbitant luxury-vehicle-registration taxes. Driving at high speeds can be a costly affair, making it challenging for car lovers to fully enjoy their vehicles in Denmark.
Conspicuous displays of wealth and flashy rides are not common in Scandinavia, except for a few exceptions like Swedish hypercar-maker Koenigsegg. The region's auto industry, mainly centered in Sweden, has historically prioritized quality and durability over flashy appearances. Moreover, Scandinavians have been early and enthusiastic adopters of electric vehicles. However, it is intriguing to find an enterprise in the region that brings together various businesses and workshops under one roof, catering to high-end car collectors' needs. From sales, storage, maintenance, repairs, and race-car preparation to additional luxury services like a Realtor, a fine-wine merchant, and a diamond broker, this place offers everything a discerning high-end car enthusiast may desire.
Petrolheads from any country would envy a facility like My Garage. However, as you drive through the flat, rural landscape of Jutland, you may question why such a sophisticated establishment was established here. With the local car fleet predominantly humble due to the heavy tax burden, one might wonder if this region can truly sustain a venture that appears more fitting for the renowned car culture of places like Los Angeles.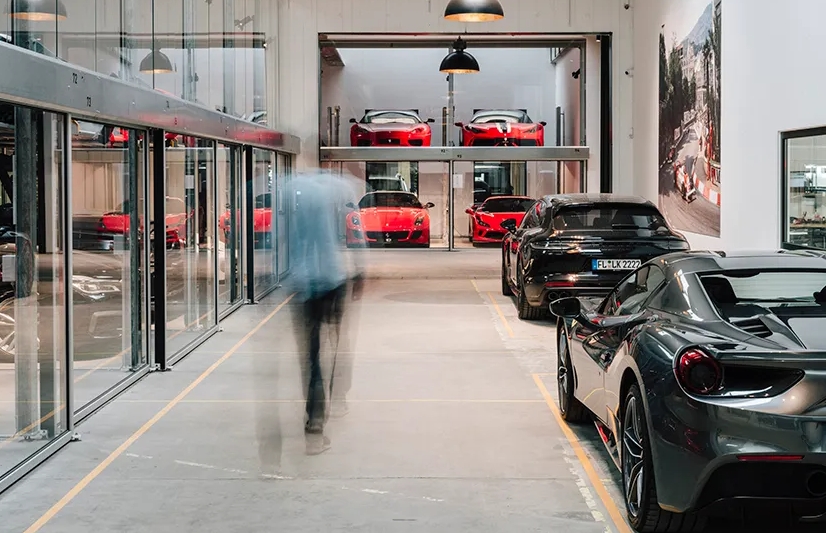 In reality, My Garage is thriving and has plans for expansion, both in its current location and in more car-friendly regions beyond Denmark. Its location is connected to the world's largest tire manufacturer, but not in the way one might assume. The area near Billund, where the airport now stands, is the birthplace of Ole Kirk Christiansen, who rose from poverty to become a carpenter and create wooden construction toys. His company, named Lego after a combination of two Danish words meaning "play well," was later developed by his son, Godtfred, into the iconic plastic bricks we know today. With Lego's global success, it became the world's largest toymaker in 2015, surpassing Mattel, and was recognized by Brand Finance as the world's strongest brand, even outranking Ferrari. With annual sales approaching $10 billion and earnings exceeding $2 billion, Lego remains privately owned by some of Ole's heirs, many of whom reside on estates near his birthplace. The vast number of tires produced by Lego is an incidental result of its massive scale as a toymaker, with Guinness World Records not distinguishing between miniature and full-size tires. Remarkably, approximately half of Lego's kits include tires, leading to the production of over 300 million tiny wheels each year.
Anders Kirk Johansen, tall, patrician, and always accompanied by his Old Danish Pointer named Pippi, is one of Godtfred's grandsons and the visionary behind My Garage. Like many others, Kirk Johansen inherited some Lego from his parents and older siblings, along with the other descendants of Godtfred, when his grandfather passed away in 1995. (His side of the family later sold its stake in 2007.) In addition to his Lego inheritance, he also inherited his grandfather's passion for cars. Godtfred had amassed an impressive car collection, but in true Danish humility, he drove a simple Mini for two decades as his daily car.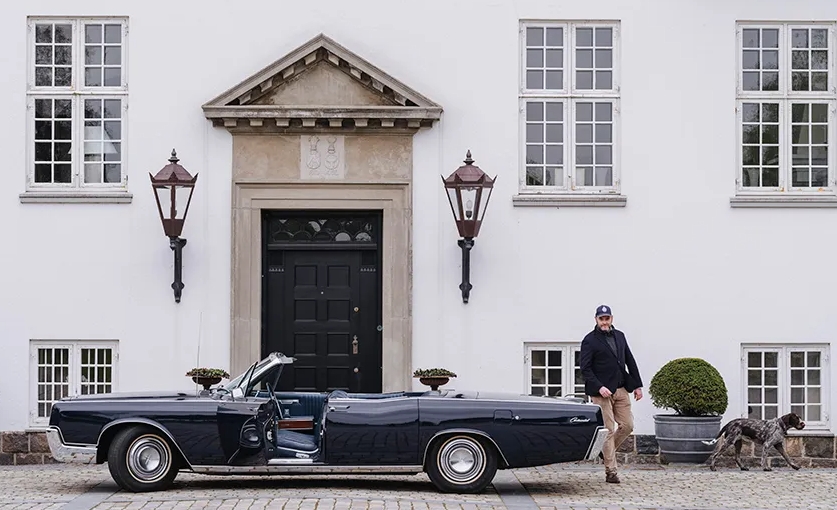 "He built the airport you just landed at," Kirk Johansen shares with me. "When the company required a larger plane, we began storing his cars in the hangar where we used to keep the old one. However, it was around a half-hour drive from our residence, and on some occasions, we encountered difficulties like cars not starting or getting them out. That's when we realized we needed something more convenient and efficient."
In the late '90s, Kirk Johansen embarked on building his car collection. However, instead of opting for the typical supercars one might expect from a young heir, he made surprisingly mature choices. His first purchase was a Cadillac Brougham ("which wasn't very good"), followed by a 1967 Lincoln Continental, considered one of America's most stylish and well-designed cars. Remarkably, he still owns the Lincoln Continental to this day.
At the age of 27, instead of opting for a downtown penthouse, Kirk Johansen made an unusually adult purchase by acquiring Rohden Gods, an expansive estate outside Vejle. This magnificent property boasts farmland, forests, and a mile and a half of private coastline, befitting the country home of one of Denmark's wealthiest individuals. The estate's grandeur is evident from the long driveway leading to the palatial, 120-year-old main house, adorned with monumental sculptures and meticulously trimmed box-cut topiary trees arranged in zen-like rows on white gravel. If you ever have a meeting with Kirk Johansen and happen to be late, the bell tower will unmistakably toll the hour, revealing your tardiness.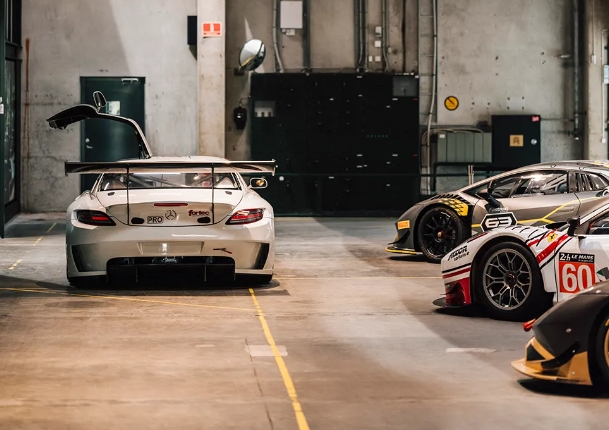 "We, my father, brothers, and I, wanted a proper place to store and showcase our cars," Kirk Johansen explains.
The result is the remarkable two-story "motor house" where we are currently conversing, ingeniously converted from a massive old cowshed located behind the main house. The ground level features a banked oval wooden racetrack, though it is purely decorative, unfortunately. Within the space, you'll find a 20-seat boardroom table, clusters of Egg chairs designed by the Danish master Arne Jacobsen (clad in the room's signature green leather), and an island bar with a Rolls-Royce Pantheon grille serving as the door to the central serving area.
Positioned around the track are vehicles from the family's collection, showcasing some of Kirk Johansen's personal favorites, such as the custom Lamborghini Aventador 780-4 Ultimae Roadster and the Lauge Jensen Viking motorcycle, a creation in collaboration with Danish car designer Henrik Fisker. (Kirk Johansen acquired the Lauge Jensen business in 2012.) The marble floor features glass panels, revealing the expansive main garage below, which comfortably accommodates around 30 cars, allowing easy access to drive any vehicle straight out without having to rearrange anything.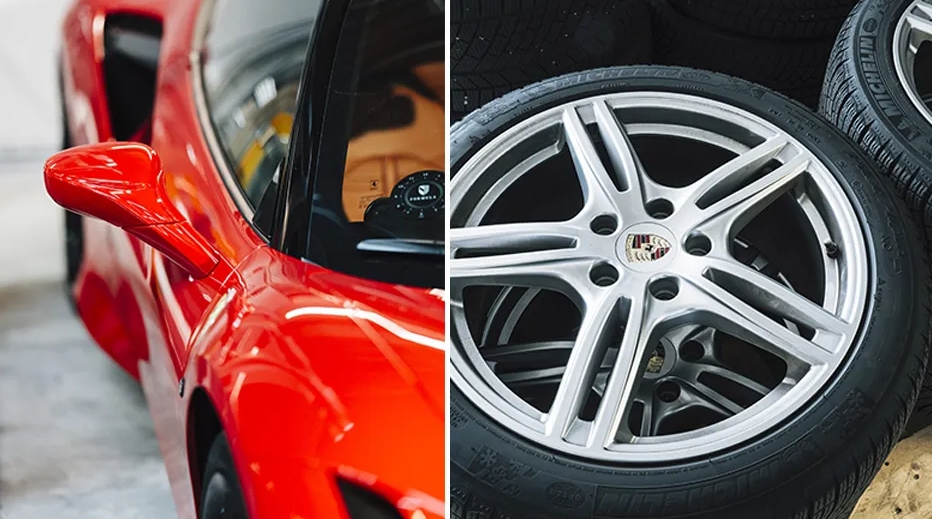 Believe us when we say that it's every car enthusiast's dream, although we can't showcase the entire collection due to the famous Danish modesty; members of Kirk Johansen's immediate family prefer to keep their vehicles private. However, Kirk Johansen is delighted to share his personal collection. It's an impressive trove, showcasing the charming eclecticism of a genuine enthusiast, rather than the predictable ostentation of a flashy spender—someone equally captivated by the mechanical wonders of large farm equipment as by the latest hypercar, super-luxury sedan, or SUV.
Kirk Johansen has an impressive collection of luxury cars as well. Outside the main house, you'll find a Rolls-Royce Cullinan and a Mercedes-Benz G-Wagen. Inside the garage, there's a Mercedes-Maybach G 650 Landaulet worth $1.8 million (before Danish taxes) and a Bentley Mulsanne sedan, delivered to Kirk Johansen even before the queen of Denmark received hers.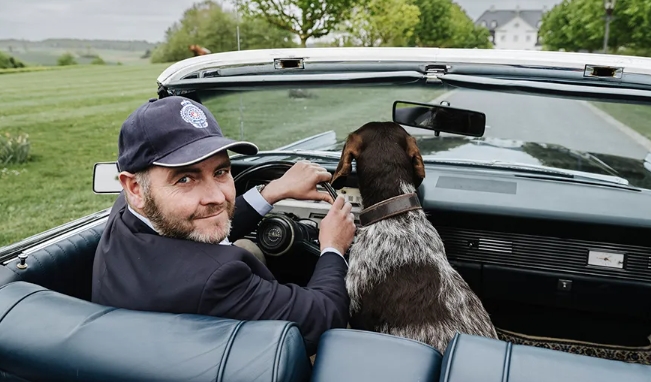 But his collection isn't limited to high-end vehicles. Kirk Johansen also treasures sentimental cars, such as an early-'90s Mazda Miata, small yet perfect, and an '80s Cadillac stretch limo purchased in the U.S. for a mere $7,000. He shipped it back to Denmark at a higher cost because it matches the model and color of a cherished childhood toy that now sits on its dashboard. When his daughters want to visit Legoland near the airport, they take the Cadillac, creating lasting memories with each ride.
Kirk Johansen reveals how My Garage came into existence, stemming from the desire to accommodate friends with interesting cars who wanted to store their vehicles on the estate. As events and Porsche restorations were becoming more frequent at Rohden Gods, additional space was needed. Building another garage could have disrupted the symmetry of the place, so the idea of My Garage emerged – a larger-scale project with a welcoming and unpretentious approach, catering to car enthusiasts without any snobbery involved.
Accompanied by Kirk Johansen in his Ferrari 812, we approach the My Garage facility, where a Porsche 911 Turbo and a meticulously restored vintage Mini are also making their way. These unique vehicles stand out amidst the ordinary Danish traffic, all converging towards the same destination.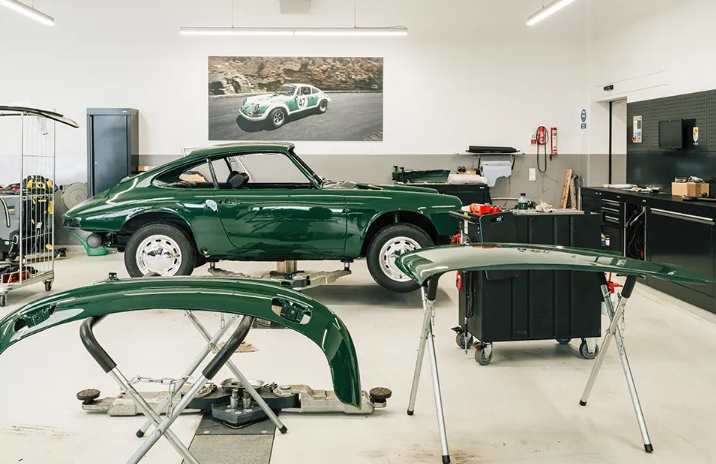 The series of unassuming, yet stylish buildings that now house My Garage were originally a carpet factory, featuring captivating domed and skylighted ceilings that grace the main showroom. After driving past it daily for two years and noticing it was for sale, Kirk Johansen decided to make it the perfect home for My Garage.
Upon entering, visitors are greeted by a lifelike, hyperreal sculpture of a security guard, an impressive piece from Kirk Johansen's personal art collection. This serves as the gateway to an ever-evolving automotive museum where cars are constantly being sold, worked on, stored, or driven—all while being open to the public for free exploration. This approach mirrors the concept seen at Fjordenhus, the waterfront office managed by Kirk Kapital, the billion-dollar investment fund owned by Kirk Johansen's family. Fjordenhus, designed by renowned artist Olafur Eliasson, boasts a public-accessible ground floor displaying Eliasson's artworks.
The family's influence on the area is evident, having built the airport and Legoland, and maintaining a significant manufacturing presence despite cheaper options overseas. This commitment to democratic public access is also evident in the adjacent Kirk Suites hotel and Enzo & C, an outstanding Italian restaurant co-owned by Kirk Johansen's brother, which proudly displays a Ferrari Testarossa from the family's car collection.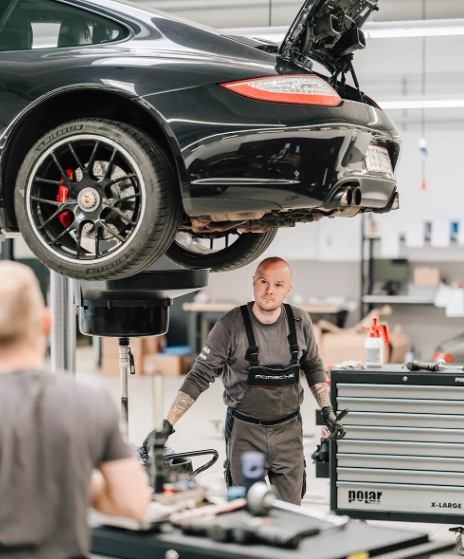 At My Garage, the public can feast their eyes on an eclectic array of vehicles. On one side, an extreme and modern Dallara Stradale sports car with a striking bare-carbon body; on the other, a unique combination of a 1958 Porsche tractor and a vibrant banana-yellow 1990s Volvo T-5R station wagon. Contributing to this captivating mix are Kirk Johansen's personal cars, adding to the madness of the kaleidoscope. Among them, we discover his Panther amphibious car, a well-preserved 300-mile Volkswagen Beetle, a custom-built armored Range Rover from the 1970s, once owned by Juan Carlos, the former king of Spain, and the raw shell of Kirk Johansen's grandfather's Mini, currently undergoing a meticulous full restoration.
Unlike some upscale classic-car dealerships and workshops that can feel cramped, My Garage offers a sense of boundless space. With approximately 215,000 square feet at its disposal, the facility ensures ample room for its various showrooms and workshops. To traverse the broad and polished-concrete indoor boulevards that connect these areas, employees ride electric scooters, making navigation swift and efficient. The walls are tastefully adorned with oversized and expertly curated images from the most glamorous eras of motorsport. Just like Kirk Johansen's private garage at the Rohden estate, every aspect of My Garage is executed with exquisite attention to detail.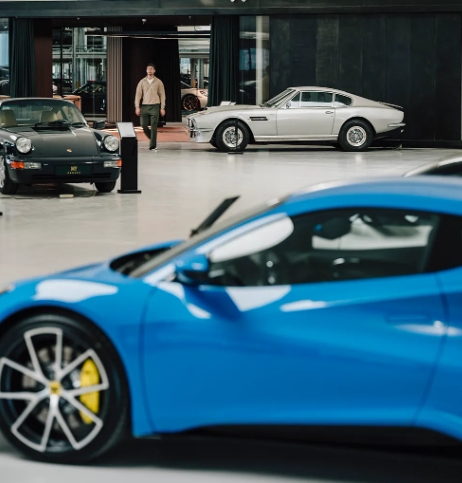 Although initially starting with modest goals, My Garage has grown into a comprehensive facility catering to the needs of exceptional car owners or collectors. Its standout visual feature is the double-stacked glass display cases, predominantly rented by private clients at a very reasonable rate of $360 per month per box, each capable of housing one car. These vehicles become an integral part of the facility's ambiance, transforming it into a captivating automotive theater. The display showcases a diverse array of vehicles, ranging from F1 cars and modern hypercars to vintage Rolls-Royces, with gallery-style descriptions accompanying each vitrine. Passersby can catch glimpses of these stunning automobiles from the road outside, adding to the allure of My Garage.
Entrepreneur Kasper Gissel, who resides just a five-minute drive from My Garage, has been storing up to three of his cars there since 2019. Among them is a pristine 1968 Rolls-Royce Silver Shadow, which is currently showcased within the glass display cases. The advantage of housing his vehicles at My Garage lies in the convenience it offers. Cars can be retrieved from their glass boxes, undergo repairs, maintenance, detailing, and preparation for a drive, all without ever needing to be exposed to the outdoors. This unique arrangement ensures that his prized automobiles are expertly cared for and readily accessible, making My Garage an ideal choice despite having his own garage at home.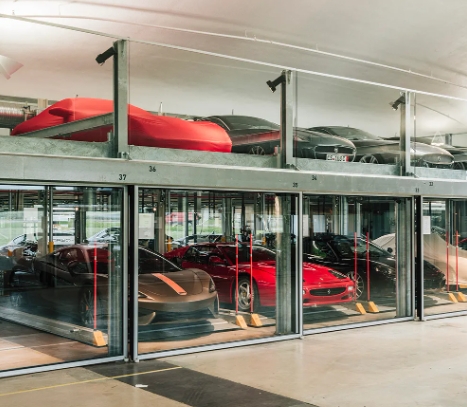 Gissel explains that one of the main advantages of storing his cars at My Garage is the facility being heated, which is particularly important during Denmark's cold winters. However, the real appeal lies in the convenience it offers. By spending a little extra, he can enjoy his cars more frequently and with ease. If any work is required, the skilled staff at My Garage can handle it on-site, or they can recommend trusted specialists if needed. When he wants to take a drive, his car is always ready, and within just 15 minutes' notice, he can have it out of the glass box and ready to hit the road. This hassle-free arrangement allows him to focus on enjoying his car collection, especially since many of the vehicles there are considered investments and not driven regularly.
Apart from offering authorized workshops for top car brands like Porsche, Ferrari, Maserati, and BMW, My Garage goes a step further by running new-car dealerships for prestigious brands such as Rolls-Royce, McLaren, Lotus, Morgan, Dallara, and Kalmar. Additionally, it boasts an impressive selection of pre-owned and classic cars for sale. Among its well-curated inventory, the late-model, high-end Porsches stand out, even though the owner, Kirk Johansen, claims he isn't particularly inclined towards Porsches. The facility also accommodates independent dealers, including an official Ferrari and Maserati concession, and another that specializes in more affordable classic cars of various makes. These independent dealers, though competitors in retail sales, have been granted leases by Kirk Johansen to enhance the automotive ecosystem at My Garage, which includes services like painters, detailers, and racing workshops.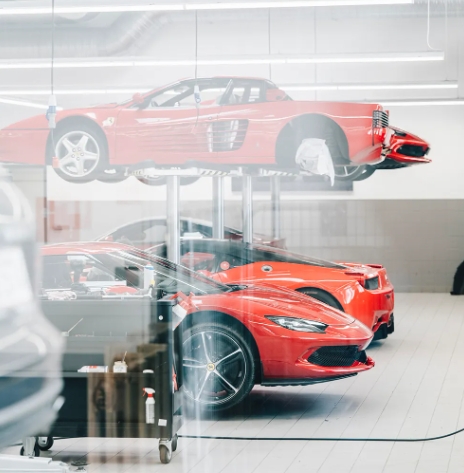 Per Madsbøll Pedersen, owner of My Garage's wine merchant, Wine Mage, reveals that the facility attracts an impressive clientele. On any given day, they welcome visitors with net worths ranging from $50 million to $100 million, and on a weekly basis, they even host billionaires. Being a tenant at My Garage holds immense value, as the networking opportunities here are unparalleled not only in Denmark but potentially across the world.
Pedersen points out that Vejle serves as a significant hub, with people from all over Denmark passing through the area. Moreover, the region boasts one of Denmark's largest concentrations of wealth. For his wine business, having access to such a prosperous local community is a tremendous advantage.
Madsbøll Pedersen is convinced that Anders Kirk Johansen chose to lease to his start-up rather than an established fine-wine seller simply to support a new and ambitious venture. He shares that during their conversation, he expressed his aspiration to create one of the biggest brands in the world, and Kirk Johansen was intrigued by the idea of building significant businesses, a trait seemingly ingrained in the family. Pedersen believes that if he had been an ordinary company without grand plans, Kirk Johansen might not have shown the same level of interest.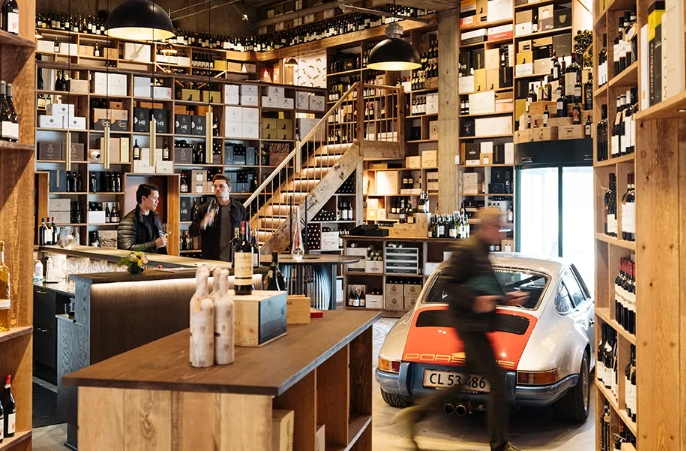 He adds that witnessing Kirk Johansen's success with My Garage has been truly rewarding, especially considering the initial doubts some had about his ability to build such a venture after inheriting his wealth. It's a delight to see those skeptics proven wrong and witness the growth of this remarkable project.
While the concept of My Garage is not entirely unique, the closest parallels can be found in the Classic Remise centers located in Berlin and Düsseldorf, which are housed in impressive old tram and train sheds. However, My Garage sets itself apart with its unique intimacy, diverse range of services, and the exceptional level of pastoral care it provides for clients' cars. Owning an extra car should be enjoyable, but it can often become burdensome. My Garage effortlessly handles all the associated responsibilities, making it a seamless and convenient experience for car owners.
My Garage is poised for further expansion, with Kirk Johansen having obtained permission to increase its footprint to approximately 750,000 square feet. The growth plan will prioritize additional auto businesses and vehicle storage, with a 16-story tower set to accommodate 120 new glass boxes alongside the existing 96. Beyond that, Kirk Johansen has received proposals for a hotel, restaurants, private banks, and watch dealers, all of which are currently under consideration. The future prospects of My Garage are looking brighter and more ambitious than ever.
If you've longed for a place like My Garage in your vicinity to free up your time for enjoying your cars rather than managing them, your wait might soon be over. Kirk Johansen is actively exploring the possibility of franchising his unique concept and brand in areas where concentrated wealth is more prevalent and punitive car taxation is less of a burden. If the success of his idea in this location is any indication, just imagine how well it could thrive in places like Miami or Monaco.